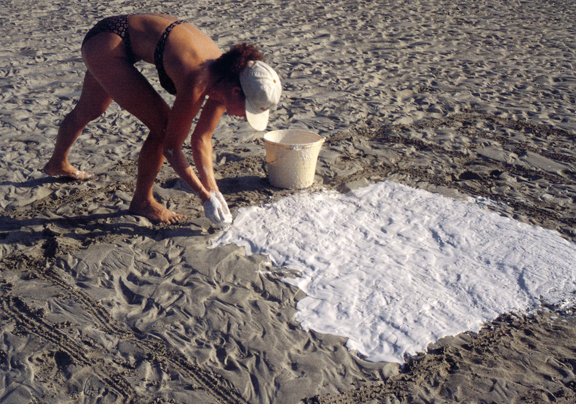 Intimate Immensities

Artist Vera Vasek came to the Keys in 1988 with no idea what kind of art she could make or what she was going to do there. But she was seduced by the life and the land - especially the back country - with its shifting sands, its silences and sudden stillness, its endless expanses. The undulations of sky and sea and their wide range of colors from crystalline to murky blues, deep indigos and greens, the beach that could be blindingly white or infinite shades of taupe and grey, pale gold and silver, all elated her and fed her sense of wonder. She was standing on a sand bar at the the entrance to Tampa Bay, she recalls, when she looked down and thought, why not begin with this - with actual sand and water? She discovered, with the help of locals, their special places on Bahia Honda, Snipe Point and Dink Key (a sand bar adjacent to Woman Key) which, since Hurricane Georges in 1998, has drifted to another location, appearing and disappearing, and is now smaller. From these early works onward, Vasek has been driven by a desire to convey her experience of the back country directly, to document and salvage - as in the case of Dink Key - something that no longer exists in quite the same form.
There is a video of Vasek at work on the beach of Snipe Point which glitters in the hard light. She is working fast since she has only a limited amount of time to lay the plaster down on the sand, pat burlap into place and embed conduit so that the work can be transported after it solidifies, altogether an extremely physical and physically demanding process. Vasek began small but gradually upped her scale in order to better approximate the immensity of what she saw, always constrained by - and in collaboration with - weather and the time between tides and sunset, rushing to complete the piece before conditions changed. These tidal reliefs, as she calls them, have irregular edges, track marks, sea detritus, rippled, constellated patterns and gritty surfaces, negatives taken directly from nature, a strategy influence by the writings and works of Robert Smithson, Robert Irwin, Agnes Martin and Gaston Bachelard's Poetics of Space. Vasek likens this "culturally familiar shape", a more or less rectangular format, to "windows into the world, the mediator through which we see so much, a frame for an endlessly shifting landscape that is also a metaphor for the subconscious."
She has also made sculptures of cast stone. Less fragile, they are circular in form, installed on the floor like small islands. Vasek paints their surfaces to reflect the glowing colors of the Keys' skies: the flickered silver of dawn; crepuscular violet; tender rose. More recently, as a result of an artist-in-residence program at Corning, Vasek has been making translucent, sea-colored sculptures and tidal reliefs in glass, the swirled patterns refracted and reflected through the Gaffer and Schott crystal. The glass has become another aspect of her production, as has resin, and has in common with plaster the ability to change from a malleable state to a solid one. The new work is less directly documentary and more about process than the sand and plaster reliefs, the artist says. As a record of the process, for instance, she keeps the raised knobs and small bubbles in the glass - the result of fabrication - which she equates with eddies or sea bubbles, the water's breath of life. She thinks of the Gulf Stream as air shaping water, then water shaping sand. From these surface patterns - configurations that also reflect galactic spirals and other cosmic phenomena - she shifts to an image of water as depth, and how depth retains the memory of surface.
Vasek is profoundly interested in the ways time and memory shapes things, literally and metaphorically. She explores and balances surface phenomenon with what lies beneath and couples positive and negative images as part of a more complex and complete resolution. The Florida Keys have been Vasek's constant muse and collaborator, her work taken, in an actual sense, from this, her chosen domain. Ultimately, her practice is a deeply felt, ongoing homage to the Keys' abundant nature, its sultry, bleached allure.

Lilly Wei
2005

Lilly Wei is a New York-based independent curator, essayist and critic who writes for several publications in the United States and abroad. A frequent contributor to Art in America, she is also a contributing editor at ARTnews and a former contributing editor at Art Asia Pacific.